Street & Road Paving References



We paved a 5,000 ton road contract for Symmes Township (Near Loveland, Ohio) from September-November of 2016.  We laid 18 different roads throughout the township.  If you would like to talk to the township about their experience with us, please call Bill Pitman  at (513) 623-5993?

We paved this subdivision road for the Lisle family in the Summer of 2014.  Lisle Lane is located off of Wilmington Road in Oregonia, Ohio.  This job was inspected by the Warren County Engineer's Office and was paved in less than 1 working day.

We recently started a 3,200 ton alley contract for the City of Dayton Ohio during early October of 2017.  This contract includes 40+ different alleys throughtout the Greater Dayton, Ohio area.  If you would like a verbal reference for the quality of our work, please call city inspector, Andrew Marks at (937) 333-3857?  We also performed this same contract for the City of Dayton twice previously.

1-800-ASPHALT is experienced at all levels of the paving industry.  We have road paving equipment and we are fully capable of handling road and street paving projects.  We have performed work for small villages, large cities, townships, counties, and large municipalities.  Some of our clients include the Village of Clarksville in Clinton County, the Village of Morrow in Warren County, Harlan Township in Warren County, the City of Dayton, Ohio, and countless other government bodies.  We also handle subdivision roads for developers and general contractors.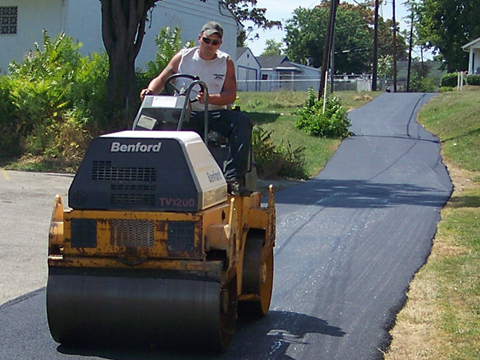 Simply move your cursor over the image to view another picture of the job.


Copyright 2010 1-800-ASPHALT:  Asphalt Paving.  All Rights Reserved