1-800-ASPHALT is an experienced line striping contractor...

Line Striping:

1-800-ASPHALT has qualified employess that are experienced in the field of pavement marking and line striping.  A quality line striping job can really enhance the curb appeal of a freshly paved or seal coated parking lot.  Proper layout directs traffic safely and efficiently. 1-800-ASPHALT has the expertise to design and layout parking lots ensuring effective traffic flow and compliance with ADA regulations. The equipment and materials we utilize are of the industries highest standards.

Our lines are straight and even, and our stalls are uniform. 1-800-ASPHALT has professional crews covering the tri-state area to provide the best service and highest quality. Distance is normally never an issue for our company since our main goal is to serve our customers to the fullest.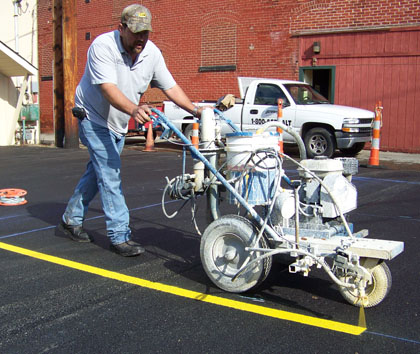 Copyright 2010 Brown Construction & Paving :  Asphalt Paving.  All Rights Reserved